Paperchain Susan Bracelet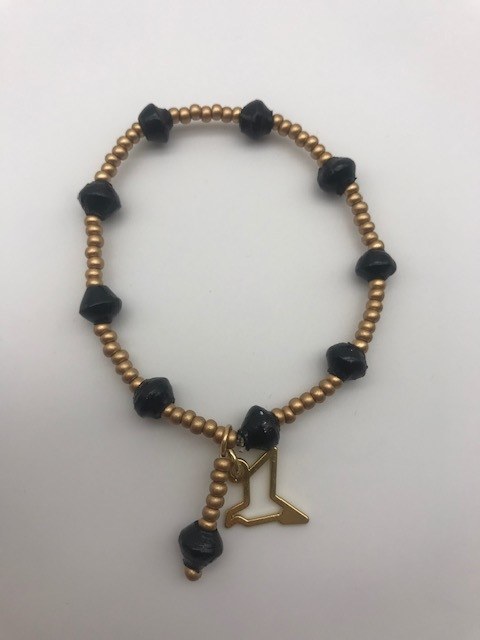 Description
From Paperchain:
People are always amazed when they hear the beads are made from paper. So here's how it all works.

We work with a wonderful team of Ugandan Mothers in Nanjjanankumbi, Kampala who skilfully make each and every paper bead, to order. Margaret is the boss here, she runs the whole thing.

Firstly they source the papers; sometimes it's old magazines, newspapers, recycled materials or printed papers depending on the bead required. Margaret's husband, he's in charge of cutting each paper to size & shape required. Then it's over to the ladies who carefully twist a needle with layers of the perfectly shaped paper to create each bead.

The next stage is the varnishing and then the drying. This is where the hot Ugandan weather can effect the production line as it is sometimes just too warm and the beads dry too quickly, because of course, this is Africa so everything is done outside on beautiful woven mats and chairs.

It takes a few days to make all of the beads required for just one of our more complex designs....and that's only making the beads, the necklace itself still needs created.

Next it's over to Maama Paula and the team of Paperchain designers. These ladies work from another area of Kampala, Mutundwe.

These ladies work quickly with very fast hands and creative minds to string the beads in wonderful ways to make a variety of beautiful necklaces and bracelets. Again, in true African fashion, the ladies refuse to sit at a table to work, but instead sit on colourful floor cushions and work in the way they feel most comfortable.

A tremendous amount of work, care and talent goes into making each piece of Paperchain, we're glad you love it.